Lots going on around here, so much so that I can barely even catch up on blog posts, LOL! But I have a few spare moments while Kenny is at wrestling practice, Kaden is napping, and Jackson is playing wii. Ahhhh, the silence is a nice contrast to our normally loud and crazy home. Lots of random projects I have in the mix too. I made up my clipboard for LOM 2009 which starts on Thursday and I am over-the-top excited about it. I can't wait to start seeing all the photos I have taken and printed in a new and fresh light. It should spur on some really great creating, I hope anyway. There are lots of really great challenges at Peek this year and I am trying to complete them as I can. Usually not in the week they are do, but better late than never in this case. Here are a couple I did over the past few weeks.
The first is for the use your stash challenge and I really used some oldies but goodies on this one. Some of the product dates back to 2006, can you believe it?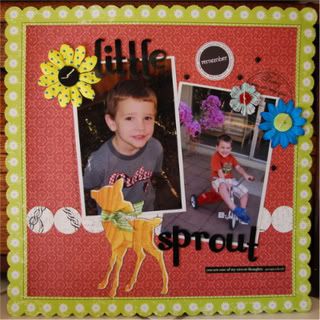 This page was for the wrap up Christmas challenge to use traditional Christmas colors on your page, I even added the jingle bell that fell off Santa's coat on Christmas Eve. ;)
Finally, a little project I created a few months ago for our SuperMoms group at church. We were able to work on them a little bit last night and I think they would make great Valentine's gifts, especially if you are on a budget this year. The best thing about them is they are completely calorie free, LOL! I used a template and instructions I found via google to create these paper fortune cookies complete with a decorated take out box.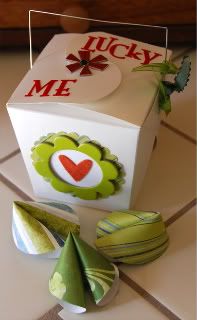 Jackson earned his yellow belt in Tae Kwon Do this past weekend too and we are so very proud of him. Photos coming soon, I promise! See you all real soon!
xo, Jen